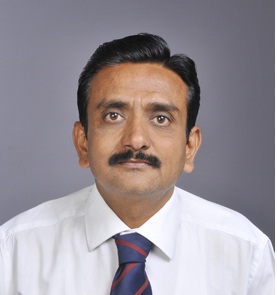 Prof. S.L.Kasar
Designation: Director in Physical Education.
Qualification: M.P.Ed.,M Phil(Physical Education)
The college has a multipurpose hall for housing a state of art gymnasium, indoor games & several sport grounds for outdoor games. Institute has provided adequate sports facilities & students are encouraged to participate in various inter-collegiate inter state & national sports events. Staff advisors & students representatives manage sports & extra curricular activities.
Sports Activity for the year 2016-17
Game
Organized Place
Date
No. of students participated
Success Achieved
Table tennis (Boys)
Shree Chhatrapati Shivaji COE, Rahuri.
01/02 August 2016
05
Winner Team First Place in Inter Collegiate tournament
Zonal Selection-Nimish Sorturkar SE(MECH),Anmol Welpuwar TE(Ele)
Shubham Pawar -BE(Mech) Standby.
Table tennis (Girls)
Shree Chhatrapati Shivaji COE, Rahuri.
01/02 August 2016
04
Quarterfinal Runner-up in intercollegiate tournament
Zonal Selection-Bhagyashri Patil BE(IT) standby
Swimming
Ad. M.N.Deshmukh Arts science & commerce college Rajur,Akole
11/12 August 2016
02
Alok jaju TE(Civil)-100 m First free style.
Alok jaju TE(Civil)-50 m First Backstroke
Badminton
(Boys)

New arts commerce & science college Shevgoan
19 August 2016
05
Semi final Runner up Team in Intercollegiate tournament .
Alok jaju TE(Civil). Zonal selection

Badminton
(Girls)
New arts commerce & science college Shevgoan
20 August 2016
04
Semi final Runner up Team in Intercollegiate tournament .
Bhagyashri Patil BE(IT) Zonal selection

Vollyball (Boys)
Sanjivani Engineering college,Kopargoan
2,3 Sep 2016
12
Quarter Final Runers up team
Chess
Shri Chhatrapati Shivaji Engineering College,Nepti
7,8,9 sep 2016
06
intercollegiate Participation
BasketBall (Boys)
S.M.B.S.T. college ,Sangamner
13,14 sep 2016
11
Semifinal runners up team
Zonal Selection..
Onkar Kardile TE(Mech)
Rahul Lokhande TE(Mech)
Kabaddi (Boys)
New Law college,Ahmednagar
20.09.2016
12
Intercollegiate participation
Boxing (Boys)
Shri Takali Dhokeshwar college.
03.10.2016
03
Intercollegiate participation
Kho-Kho (Boys)
R.B.N.B.college Shrirampur
13,14 Oct 2016
12
Intercollegiate participation
Football (Boys)
Ahmednagar College
24,25 Nov 2016
18
Intercollegiate runners up 2nd place
Cricket (Boys)
New Arts,Commerce & Science College,Parner
7,13,15,19,20 Dec 2016
16
Intercollegiate
South zone cricket final match runners up team

Wrestling
Jijamata College Bhenda
16,17 Dec 2016
01
Intercollegiate participation
Fencing
New Arts,Commerce & Science College Ahmednagar
20.12.2016
01
Intercollegiate participation
Sports Activity for the year 2015-16
 Inter Collegiate Tournament Participation
 (As per University & Zonal Sports Programme)
| | | | | |
| --- | --- | --- | --- | --- |
| Game | Organized Place | Date | No. of students participated | Success Achieved |
| Table tennis | Shree Chhatrapati Shivaji Maharaj COE, Nepti, Ahmednagar | 5,6 Aug. 15 | 5 | Winner Team First Place in Inter Collegiate tournament |
| Table tennis (Girls) | Shree Chhatrapati Shivaji Maharaj COE, Nepti, Ahmednagar | 5,6 Aug. 15 | 4 | Semi Final Runners Up Team in Inter collegiate tournament |
| Chess | New Arts College, Parner | 19-21 Aug.15 | 6 | Winner Team First Place in Inter Collegiate tournament |
| Basket Ball (Girls) | Adv. M.N.Deshmukh College, Rajur | 28 Aug. 15 | 8 | Runners Up –Second Place inInter Collegiate tournament |
| Volley Ball (Boys) | Pravara Pharmacy College, Loni | 1,2 Sept.15 | 11 | Inter Collegiate Participation |
| Boxing | C.D.J.College, Shrirampur | 3 Sep. 15 | 01 | Inter Collegiate Participation |
| Kabaddi (Boys) | Jijamata College, Bhenda | 15,16 Sept.15 | 12 | Inter Collegiate Participation |
| Basket Ball (Boys) | Vikhe Patil College, Loni | 3,4 Oct.15 | 12 | Quarter Final Runners Up in Inter Collegiate tournament |
| Athletics (Boys) | Babuji Avhad College, Pathardi | 14,15 Oct.15 | 03 | Intercollegiate participation |
| Badminton (Boys) | New Law College, Ahmednagar | 9,10 Sept.15 | 06 | Semi Final Runners Up in Inter Collegiate Tournament |
| Badminton (Girls) | New Law College, Ahmednagar | 9,10 Sept.15 | 04 | Intercollegiate participation |
| Kho-Kho (Boys) | New Arts, Commerce & Sci. College, Ahmednagar | 29,30 Sep.15 | 12 | Quarter Final Runners Up in Inter Collegiate Tournament |
| Foot Ball (Boys) | Ahmednagar College, Ahmednagar. | 20,21 Oct.15 | 16 | Runners Up – Second Place in Intercollegiate Tournament |
| Cricket (Boys) | Ahmednagar College, Ahmednagar. | 19,24,30 Oct.15 | 16 | Semi Final Runners Up – West zone in Intercollegiate Tournament |
| Rifle Shooting | B.P.Ed College Loni | 26 Nov.15 | 01 | First Place & Zonal Selection |