From HODs Desk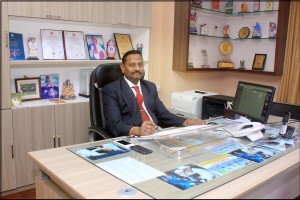 It is my pleasure and honor to welcome you to the Department of Mechanical Engineering. Mechanical engineering is recognized as one of the robust and most comprehensive professional disciplines. Mechanical engineering principles are employed in a wide range of industries such as Design, Manufacturing, Energy, Automation and Control, Robotics, Mechatronics,  Nanotechnology, Food industries, Automotive, Petroleum, Aerospace, Repair and Maintenance, and etc.
To cater the needs of the time and technology, the department consistently strives to provide world class facilities for education and research. An interactive & cordial relationship is maintained between the students and faculty, which enables the students to develop a sound foundation in the stream in a conducive environment. Our department maintains an active research group for carrying out collaborative and interdisciplinary research along with entrepreneur development cell. The department organizes nourishment programs to provide the students with industrial and practical experience through training and project work in industries. As a result of above, the department was accredited by the National Board of Accreditation (NBA), Delhi in 2011 only.
Modern multimedia teaching technologies are used to supplement lectures and enhance the quality of teaching. Computer aided learning packages on different subjects are available for self-learning. Industrial visits are arranged for students to gain practical exposure. In addition, guest lectures and panel discussions are arranged by inviting eminent persons from reputed organizations like VRDE, CQAV, L&T and much more.
Almost all the eligible students of final year mechanical engineering are getting placed in the campus recruitment. Some of the major recruiters include Crompton Greaves, Eaton, Larsen & Toubro, KSB Pumps, GKN Sinter Metals, Hoganas India, Wipro, Infosys, Cognizant Technology Solutions, Tata Consultancy Services and much more. The salary range of the students recruited under campus recruitment is Rs. 1.4 to 4.2 lakhs per annum. In addition, it undertakes industrial consultancy projects for industries in and around Ahmednagar & Pune. Students interested in higher studies are pursuing their studies in reputed institutions across the country and even in abroad also.
Our department looks forward to contributing to solving the technological challenges of the society with active participation from all sections of the society. I welcome your interest in our department & wish you a challenging & successful experience with us. Thank you for visiting us.
Best wishes,
Dr. Jayakumar Jayaraman, PhD             
Vice-Principal and
Head of the Department (Mechanical Engineering)
Courses Offered:
| Sr.No. | Name of the Course |  Intake | Establishment Year |
| --- | --- | --- | --- |
| 1. | B.E.(Mechanical) | 120 | 1991-1992 |
| 2. | M.E.(Design) | 24 | 2012-2013 |
| 3. | PhD Research Center (Mechanical) | — | 2011-2012 |
| 4. | B.E. Direct Second Year (Mechanical) | 60 | 2012-2013 |