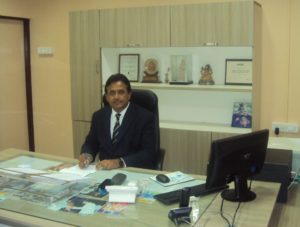 Dr. Uday P. Naik
Ph.D.(Civil Engg.)
Principal
Dear Students,
At the outset let me take this opportunity to compliment you for having taken the wisest decision of planning to join one of the noblest profession, Engineering. You are entering a career which will help you in taking the major role in nation building. There are four exciting years lying ahead of you during which you will be put through one of the most interesting and informative courses which will make you fit to face the challenges of the outside world. We will mold you to be professionally competent Engineer and technically sound professionals.
With this aim in mind, we have created excellent facilities to train you in all aspects of your chosen discipline. The teaching learning process ensures that it retains its theoretical depth and practical vibrancy. The academic environment is rigorous and stimulating. You will have all the state of the art equipment so that you are ahead and right in the forefront. It shall be our endeavor to impart the best of quality education to the aspirants of this profession. To achieve this we have a well-qualified team of faculties, state of the art equipment and all amenities to create an academic atmosphere where the students are inspired to rise to the forefront. You will be encouraged to participate in technical seminars, project exhibitions, and various competitions. Students also get ample opportunities to interact with industry leaders. Involvement and commitment are the two benchmarks identified in this college that drive the students to greater learning.
This College not only provides ample opportunities to grow academically but also helps to develop other extracurricular qualities in sports, games, cultural activities and many others.
As you march through academic curriculum you will come to know that Dr. Vithalrao Vikhe Patil Foundation, under whose patronage this College is functioning, is producing graduate Engineers, skilled men power, Medical Professionals every year consistently for more than last two decades, which is a considerable contribution towards Human Resource Development of the nation. It may be mentioned that unlike any other developed nations, human resource is the key factor of economic development of our country.
So, be confident and come forward and join us. Together let us march forward to your success. Work hard and have a strong desire to succeed. We will ensure that our hard work and desire is rewarded with victory. You shall emerge as a thorough and competent professional at the end of this enjoyable journey. You will be correctly guided at every step to ensure that you reach your ultimate destination, which is the complete success.
Wish you all the best and success in all your endeavors.