Central Computing Facilities
80 Dell machines with eye friendly TFT screens and 1 HP Server with 32 mbps Leased Line for internet Connectivity with Wi-Fi Communication and Personality Development Software Career and Language software.
ERP (Enterprise Resource Planning Software)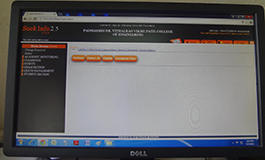 The software makes the Student-Institution-Parents Interaction easier. Data related to subjects, teaching, feedback, the attendance and the progress of the student can be smoothly accessed due to ERP.
Server Room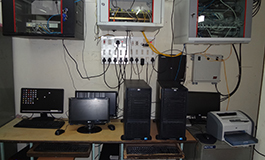 Three High Speed tower models of HP servers with extremely fast internet lease line backbone support is used for Online University Examination, ERP software management, web server management, WiFi server management and intranetwork of the institute.
Shopping Complex
The Hostel Complex has been built within the campus, which accommodates more than 1400 students. Three independent blocks are provided for boys and a separate block for girl students. All the hostels encompass beautiful gardens. Each hostel has resident rector to monitor and to maintain the discipline. Hostel rooms are airy, clean and well furnished.
Principal's Residence & Staff Quarters:
Principal's bungalow with built up area of 2000 sq. feet surrounded by a beautiful garden is situated in girls' hostel complex. It also has guest rooms, security cabin etc. For both teaching and non-teaching staff, quarters are provided within the campus.
 PowerHouse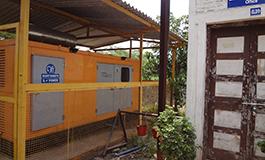 A 75 KVA Diesel Genset as a standby is installed to take care of uninterrupted power supply to the entire campus including hostels and quarters.
Banking ATM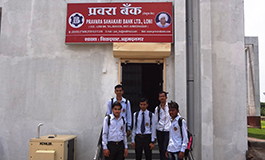 The institute has an extension counter of Pravara Sahakari Bank in its main building facilitating the financial transactions of the engineering students at the campus. The college also has the ATM of The Shamrao Vithal Cooperative Bank for smooth monetary transaction.
Mess and Canteen
The students are provided with the hygienically prepared excellent quality food in a common mess hall. The campus has the canteens for snacks/fast food/refreshments.
Parking
Spacious parking facility is provided for all types of vehicles of staff and students.
Transportation
Frequent buses of Ahmednagar Municipal Transport (AMT) are available at interval of 15 minutes. Auto rickshaws and S.T. buses are also available to commute.