Electrical Engineering Students have ample opportunities in various field of Electrical Engineering such as Indian Engineering Services, ISRO, DRDO, NTPC, BHEL, SAIL, GAIL,IOCL, Railways, PWD, State Electricity company (Generation, Transmission & Distribution), Multinational Companies like Reliance Power, TATA Motors, L&T, Crompton Greaves, ABB, Bajaj, Havel's, HCL, Infosys, Wipro, Tech Mahindra,TCS & many more. It is our pride more than 300 Students working in various State Electricity Companies, many students taking higher education in India & Abroad. Our Alumni Association is very strong.
Placement In-Campus & Off-Campus 2016-17.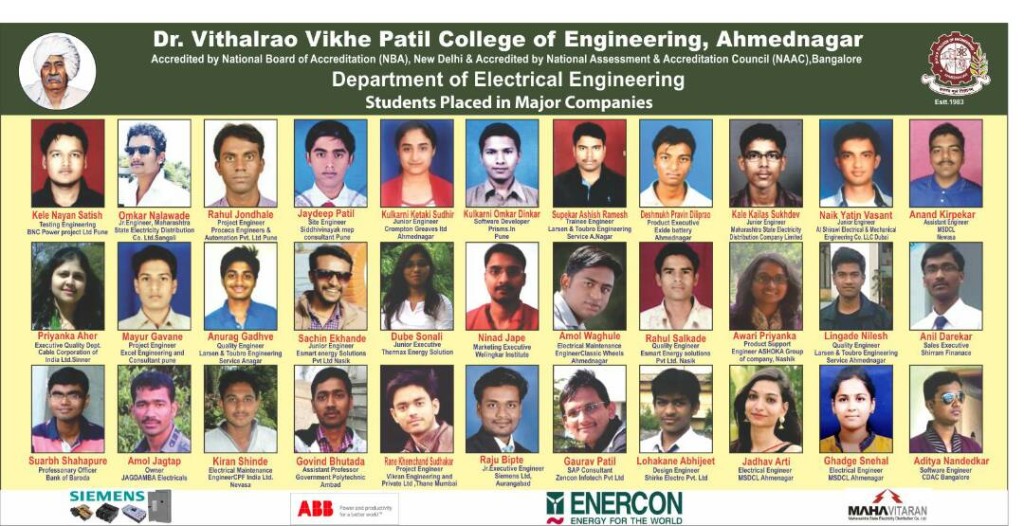 Our Placement In-Campus & Off-Campus together given as below.
Year-2015-16
| | | |
| --- | --- | --- |
| Sr.No. | NAME OF ORGANIZATION | NO. OF STUDENTS |
| 1 | PREMIER ELECTRICALS NASHIK | 3 |
| 2 | CRT COMPLEX PVT. LTD.PUNE | 4 |
| 3 | AIM ENGINEERING,VILLAGE NANDED,PUNE | 3 |
| 4 | MAYURESH ENGINEERING ,PIRANGUT,PUNE | 3 |
| 5 | SHRIRAM GROUP, CHENNAI | 1 |
| 6 | GOVERNMENT POLYTECHNIC AHMEDNAGAR | 3 |
Year-2014-15
| | | |
| --- | --- | --- |
| Sr.No. | Name Of Organization | No. Of Students |
| 1 | CRBI,AURANGABAD | 1 |
| 2 | HCL, NOIDA | 2 |
| 3 | HAVELLS, NOIDA | 1 |
| 4 | PONI MOTORS AHMEDNAGAR | 1 |
| 5 | I.Q. ZONE,DELHI | 1 |
| 6 | RIGHT JOB CONSULTANT, PUNE | 1 |
| 7 | EASY SOLUTION PVT. LTD, DELHI | 1 |
| 8 | ADVANTURE ASIA,KOCHI | 1 |
| 9 | TEACHING FIELD | 4 |
| 10 | L&T, AHMEDNAGAR | 1 |
| 11 | PREMIER ELECTRICALS,NASHIK | 2 |
| 12 | HIGHER STUDIES(ME/M.TECH/MBA) | 5 |
| 13 | INDIAN ARMY U.E.S.25 | 2 |
Year-2013-14
| | | |
| --- | --- | --- |
| Sr.No. | Name Of Organization | No.of Students. |
| 1 | EXCELL POWER,AHMEDNAGAR | 1 |
| 2 | POPULAR SWTCHGEAR PVT. LTD.,MUMBAI | 1 |
| 3 | GODREJ AGROVET, NOIDA | 1 |
| 4 | L&T ,DELHI(METRO RAIL PROJECT) | 1 |
| 5 | I-GATE SOFTWARE,AHMADABAD | 1 |
| 6 | PROFESSIONAL ACCESS,BANGLORE | 1 |
| 7 | HCL,BANGLORE | 1 |
| 8 | TATA CONSULTANCY SERVICES,PUNE | 1 |
| 9 | WEB EXCELL SOLUTION,NOIDA | 1 |
| 10 | CRT COMPLEX PVT. LTD., PUNE | 2 |
| 11 | MSETCL | 1 |
| 12 | TEACHING FIELD | 4 |
| 13 | HIGHER STUDIES(ME/M.TECH/MBA) | 4 |
| 14 | HOGANAS, AHMEDNMAGAR | 1 |
Year-2012-13
| | | |
| --- | --- | --- |
| Sr.No. | Name Of Organization | No. Of Students |
| 1 | MSEDCL | 4 |
| 2 | MAHINDRA SATYAM,HYDRABAD | 1 |
| 3 | INFOSYS, BANGLORE | 1 |
| 4 | CRT COMPLEX PVT. LTD., PUNE | 2 |
| 5 | PREMIER ELECTRICALS NASHIK | 2 |
| 6 | TEACHING FIELD | 6 |
| 7 | HIGHER STUDIES(ME/M.TECH/MBA) | 4 |
| 8 | INDIAN ARMY U.E.S.23 | 2 |
| 9 | DAULAT GROUP, SANGAMNER | 1 |